Berklee Institute to Present Conference on Arts Education and Special Needs in April
March 22, 2018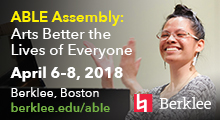 The Berklee Institute for Arts Education and Special Needs (BIAESN) will present the ABLE Assembly: Arts Better the Lives of Everyone from April 6–8, 2018. Formerly known as Teaching Music to Students on the Autism Spectrum, the ABLE Assembly will feature more than 50 presentations and workshops on arts education and special needs, as well as numerous performances by artists with disabilities.
On Friday, April 6, the conference will open with a reception and a musical performance by the Merry Rockers, a reggae band that formed at Berklee. Lead singer Marissa Lelogeais B.M. '13 has cerebral palsy and a visual impairment. With her bandmates, Lelogeais strives to create upbeat music with a positive message of acceptance for everyone.
Daylong conference sessions will be held from April 7–8, and each day will begin with musical performances. On Saturday, students from Billerica's United Sound chapter will share their music, and Berklee student Adam Walden will perform solo cello works on Sunday.
Keynote presenters at the ABLE Assembly will include Sheila Scott from Brandon University in Manitoba, Canada; Stephen Shore from Adelphi University in New York; Jenna Gabriel from VSA at the Kennedy Center in Washington, D.C.; and Jeff Poulin from Americans for the Arts.
More information about the ABLE Assembly, including registration, is available at berklee.edu/able.