Recordings, Collaborations, and Past Performances
For upcoming events, please see our Events page. 
Recordings are one of the Mediterranean Music Institute's main activities. The institute supports both Mediterranean music and outstanding students emerging in this rich tradition.
In its first year, MMI's record label launched records from four student artists/groups: Layth & Naseem (Jordanian violinist Layth Sidiq and Palestinian cellist Naseem Alatrash); Christiane Karam and the Pletenitsa Balkan Choir; Tal y Tali, a duo of Israeli students Tal Even-Tzur (piano) and Tali Rubinstein (recorder); and the Eleni Arapoglou Trio. In 2016, the MMI launched the album of student band Mediant Collective. 
Refugio del Sonido, a music-focused, multidisciplinary project under the leadership of Javier Limón, MMI's artistic director, was produced by the MMI and the El País newspaper with the collaboration of Doctors Without Borders (MSF) in an effort to raise awareness of the refugee crisis and to honor the millions of refugees around the world. Featuring over 45 Berklee students and alumni, four CD/books were released with El País, each one accompanied by a booklet featuring the work of over 40 artists, journalists, photographers, and others. Read news coverage about this project. Visit the El País homepage for Refugio.
La Guitarra Vuela (The Guitar Flies)
is a documentary project tribute to the great flamenco guitarist
Paco de Lucía '10H
, produced by 
Javier Limón
 with 
Iberia
 airlines and with the collaboration of the
MMI
. With this documentary, Iberia airlines sponsored two full scholarships for guitarists from Spain or Latin America to attend Berklee's 
Five-Week Summer Performance Program
.  Berklee students and alumni have participated in the documentary.
For the second time since 2013, flamenco artist José Mercé, a Berklee MMI Mediterranean Maestro, received a Latin Grammy nomination for Best Flamenco Album. His 2016 release and 18th album, Doy La Cara (I Come Forward) (Warner Music Spain), was produced by Javier Limón and features nine current or former Berklee students. 
Javier Limón's latest album, Promesas de Tierra, reunites Sephardic, Christian, and Moorish cultures in search of the foundations of flamenco and Andalusian music. Berklee students from these diverse musical cultures give outstanding performances in this album.
Flamenco artist José Mercé visited Berklee and was so impressed by the level of the students' musicianship that he asked the Berklee Balkan Choir to perform on his new record, Mi Única LLave, published by Blue Note. The choir comprised 13 Berklee students and was directed by Christiane Karam.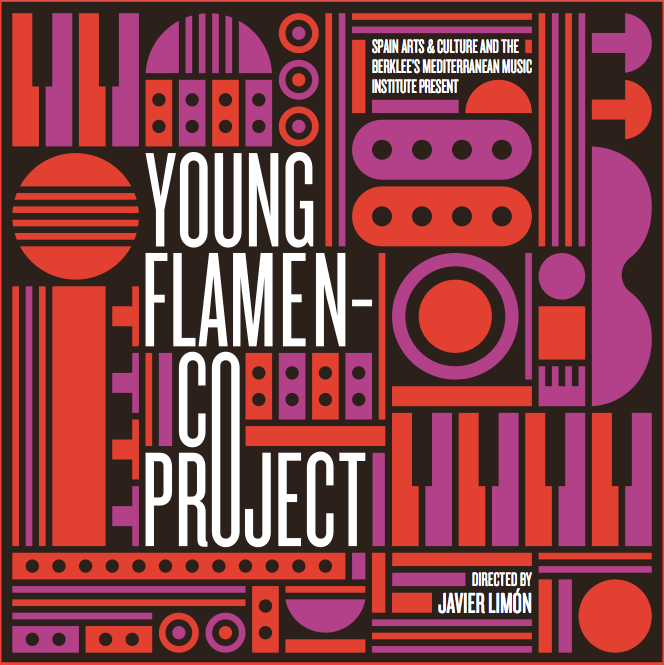 With performances by some of the most remarkable Berklee students from all over the world, the Young Flamenco Project is concert and album also featured several flamenco greats, including dancer Belen López, singers Tamara Escudero and Saul Quiros, guitar player Israel Cerreduela, and percussionist Rafael Jiménez ("El Chispas").

Positive Generation: Voices for an AIDS-Free Future is an album based on songs from HIV support groups in Zimbabwe, featuring performances by internationally reknowned artists Alejandro Sanz, Paula Fernandes, Estelle, and Oliver "Tuku" Mtukudzi, and two Berklee students. It was made by Médecins Sans Frontières (MSF), an international humanitarian medical organization, and produced by Javier Limón, MMI's artistic director. 
Ongoing Collaborations
 
The Casa Árabe MMI concert series began in 2014, and since then it has been an ongoing collaboration offering performance opportunities to our students in Madrid and Córdoba.
Instituto Cervantes and the Mediterranean Music Institute
For two consecutive years, the Mediterranean Music Institute has produced performances by Berklee students at the Instituto Cervantes Observatory of the Spanish Language at Harvard University. In addition to these performances, in 2014 the MMI produced a series of master classes at the Instituto Cervantes in Madrid, Copenhagen, and Dublin, given by our artistic director, Javier Limón.
For three consecutive years, the MMI Recording Sessions at Berklee's Valencia campus, directed by Javier Limón at the Ann Kreis Scoring Stage, have been open to all students. In one studio session, students learn the entire recording process, from arranging and performing to recording and mixing.
Past Performances

Refugio del Sonido concert, Auditorio Nacional in Madrid
As part of its Refugio del Sonido project, which aims to spread awareness of the refugee and migrant crisis in Europe, the Mediterranean Music Institute (MMI) presented its annual concert to a sold-out hall at the Auditorio Nacional de la Música in Madrid, Spain, on October 8, 2016. The Refugio del Sonido concert was part of the Fronteras concert series, organized by the Centro Nacional de Difusión Musical of Spain. 
A Berklee Roma Night
To mark International Roma Day on April 8, 2016, Berklee's Mediterranean Music Institute and the FXB Center for Health and Human Rights and Mahindra Humanities Center at Harvard University joined forces to address issues facing the Roma community in Europe and to celebrate its culture. The MMI sponsored a concert at the Berklee Performance Center of traditional Romani folk music, where students performed with guest artist Damian Draghici '98, a legendary Romanian pan flutist and member of the European Parliament.  
The MMI collaborated with the Berklee Middle Eastern Festival, an annual event directed by festival founder and associate professor Christiane Karam that joins artists from the Middle East, the Balkans, and the Mediterranean with students from all over the world. A highlight of the 2016 festival was the hour-long multimedia project Home Within, an impressionistic reflection of the Syrian revolution in which art and music develop in counterpoint to each other. Created and performed by Syrian composer and clarinetist Kinan Azmeh and Syrian-American visual artist Kevork Mourad, Home Within has toured the U.S. and Europe, raising awareness and funds for Syrian refugees.
Aegean Nights Concert
At the annual Mediterranean Music Institute Spring Concert on March 8, 2016, the student band Mediant Collective led the show. A collaboration between Turkish vocalist and oboist Elif Çakmut, Greek lutist Vasilis Kostas, and Israeli guitarist Gilad Barakan, the band presented a repertoire of original music that fused Mediterranean/Middle Eastern sounds with chamber music, jazz, and pop while creating unique sounds and colors covering well-known standards from the American repertoire. Guest artists included Turkish baglama, kaval, and fretless guitar player Sinan Cem Eroglu, Greek vocalist Panagiotis Lalezas, and violinist Beth Cohen. 
With the support of the MMI, this student band formed by Turkish vocalist and oboist Elif Çakmut, Greek lutist Vasilis Kostas, and Israeli guitarist Gilad Barakan entitled Mediant Collective toured in Spain, Greece, Israel, and Turkey during  the summer of 2016. The band performed more than 10 concerts and offered three clinics. 
Mediterranean Roots Festival (Festival Raíces del Mediterráneo) in Valencia
The MMI and Berklee's Valencia campus joined forces to create the Mediterranean Roots Festival (Festival Raíces del Mediterráneo), a biannual, two-day event celebrating the musical heritage, influence, sounds, and traditions of the Mediterranean. The October 29, 2015, concert featured Mexican singer and UN spokesperson Magos Herrera with the Berklee Mediterranean Ensemble. The next night, the festival honored Paco de Lucía with a tribute concert featuring singer, composer, and producer Pepe de Lucía (Paco's brother) and flute player Jorge Pardo, who performed with a band of Berklee students. In addition, Pepe de Lucía received the MMI's Master of Mediterranean Music Award. The Huffington Post called this show one of the top performances of 2015. The next festival is scheduled for 2017. 
Paco de Lucía Tribute Concert: Entre 20 Aguas
The 2015 MMI spring concert at the Berklee Performance Center was a tribute to the great flamenco guitarist Paco de Lucía, whose musical legacy has influenced generations of musicians all over the world. With guest artist harmonica player Antonio Serrano, the MMI Consort, composed of over 20 students, performed its own Mediterranean-rooted compositions for the first half of the concert followed by Paco de Lucía's repertoire arranged by Antonio Serrano. Watch them perform "Por Bulería." Serrano was presented with the Master of Mediterranean Music Award for his innovative contribution to flamenco.
In 2014, the MMI brought three Berklee bands to perform at Casa Árabe headquaters. In 2016,  the MMI and Casa Arabe continue their with two concerts. The first one, on May 9, was a concert of Ziryab and US, a collaboration with the Aix-en-Provence Festival Medinea network and Berklee's Valencia campus. The second one was a tribute concert to the thousands of victims and refugees that have left Syria and Iraq, bringing the extraordinary violin of Iraqi/Jordanian Layth Sidiq (Al-Rubaye) who performed as a guest artist with the Syrian sufi band Al Touraz Al Andalusí.
Miguel de Cervantes Anniversary Concert
Berklee Latino and the Mediterranean Music Institute, in collaboration with the Instituto Cervantes, presented a concert on April 22, 2014, that took the audience on a journey through Spanish music. Spanish guest artist La Shica, faculty members Christiane Karam and Javier Limón, and more than 50 students gave magnificent performances in several genres, from Gregorian chants to Latin American popular music, in this musical celebration of the Spanish language. Read news coverage about this concert.
Mediterranean Week in Spain Tour
For a week in February 2014 the MMI organized a series of six concerts in Spain, performed by four Berklee students under the musical direction of Javier Limón. "A thousand years later, the oldest cultures of the Mediterranean reunite on a tour in Spain," Limón said. "Layth (Al-Rubaye), Naseem (Alatrash), and Tal (Even-Tzur) and Tali (Rubinstein) are the young image, full of life, representing a young institute (MMI) that has burst onto the music scene at a global level." Read news coverage about this event.
The Flamenco Soul Project band, composed of four Berklee students and two young flamenco artists, performed on the Blue Note Festival circuit, at the BBKING in New York, the Howard Theater in Washington, the Baltimore Soundstage in Baltimore, and the Arsenal Center for the Arts near Boston. The institute's goal with this project was to give our students professional opportunities and to promote new fusions of Mediterranean musical styles.
The fourth Middle Eastern Music Festival, directed by multifaceted musicians Christiane Karam and Javier Limón, honors and celebrates the beautiful musical traditions of the Mediterranean lands with the great flamenco guest artists Pepe de Lucía and Genara Cortés.
Berklee Valencia Campus Inauguration Concert/Mediterraneo Ensemble
Berklee Valencia inaugurated the Mediterranean Music Institute with a concert by the Berklee Mediterráneo Ensemble. It featured performances by Ariadna Castellanos Rivas on piano, Ali Amr on qanun and voice, Kalani Trinidad on flute, Tamir Shmerling on bass, and Sergio Martínez on percussion. Watch footage from the concert.