Writing and Music Technology Lab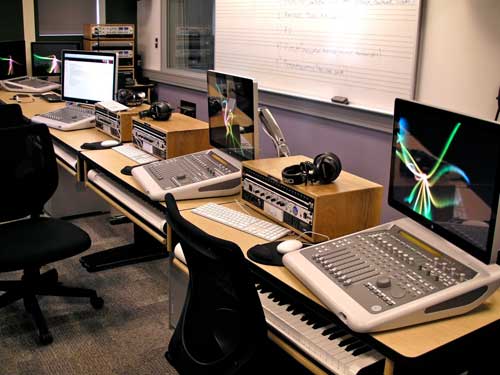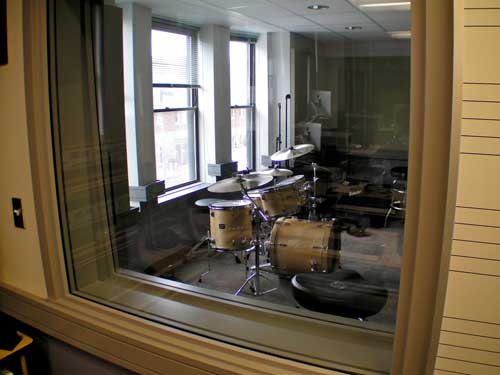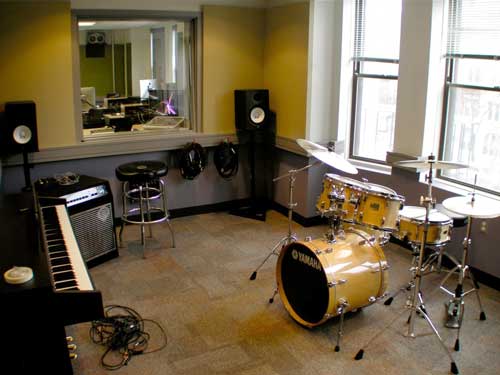 The Writing and Music Technology lab and advanced classroom provide students majoring in contemporary writing and production, songwriting, and film scoring with hands-on access to professional music technology equipment. These tools and resources, in conjunction with their own equipment (laptop and major bundle), allow the students to advance their skills and complete course work.
Located on the second floor of 155 Massachusetts Avenue, the tech lab consists of 12 digital audio/MIDI workstations and a teaching workstation. It is used as a classroom for several advanced courses offered by the division. The lab is designed to help writing students understand and meet the challenges of professional work. It mirrors real-world, computer-based digital audio/MIDI studios of writers/ producers who must utilize ever-changing technologies in a contemporary professional environment that expects and demands increasingly sophisticated capabilities. The tech lab is a working example of what is possible in today's musically powerful production environments.
Each student station features a top-of-the-line multiprocessor and multi-core computer with large monitors to meet the most advanced demands of professional DAWs (Pro Tools, Digital Performer, Logic, Reason, etc.), and software synthesizers and plug-ins such as Vienna Symphonic Library, Native Instruments Komplete, and more. A 61-key advanced MIDI controller and a Digidesign audio interface and control surface allow the student to interact with the station and the software in an efficient and dynamic way. The lab also features a soundproofed recording booth connected to the teacher station that students can book to record drums, bass, guitar, or any other acoustic instrument directly to the teacher station.
The advanced classroom features a large teaching space with 16 individual stations where students can plug in their laptops for classes and lab time. Each desk has a 49-key MIDI keyboard, a Digidesign audio interface, ethernet, and USB connections in order to allow our students to interact and collaborate in real time not only with the instructor but also with other students. The teacher station provides a large smart board, a complete AV rack (with Blu-ray DVD player, audio patch bay, and desktop computer), connections for a laptop, a 61-key MIDI keyboard, a digital piano, and an ELMO document camera.