As a music education major, you'll learn to apply cutting-edge pedagogical practices driving the future of education. Over eight semesters, while completing the college's core music curriculum, you'll acquire the skills to help your students achieve their full potential through the study of methodologies in general musicianship and performance techniques. You'll gain real-world experience working with a community of musicians, faculty, and professional educators on the college's Boston campus, as well as utilizing Boston's diverse public school environment, all while earning a bachelor's degree.
Program Details
Full Description
The Bachelor of Music in music education prepares students to be the music educators of today and tomorrow. Applying musical content and pedagogical practices that are innovative, contemporary, and relevant, music educators gain the music literary, pedagogical, and technological skills that enable them to excel as educators and to help their students achieve their full musical potential. Students develop skills, concepts, and methodologies in music theory, composition, general musicianship, music history, arranging, orchestrating, improvising, conducting, and music performance. The latter includes a focus on solo performance techniques acquired through private instrumental or vocal study; vocal and instrumental techniques, pedagogy, and literature related to solo and ensemble performance; and the relationship of music to other disciplines of study.
Students also learn to teach. They learn to meet the needs of diverse learners and to incorporate technology into their pedagogical practice. Students come to understand the ways that history and culture shape and influence contemporary music as they apply historical and current pedagogical practices to foster teaching and learning. They also apply contemporary music performance practices, methodologies, modalities of instruction, and repertoire, as well as improve written, oral, and musical communication skills.
Students demonstrate these competencies through a field experience, a student teaching practicum for one semester in a public school environment. In this practicum, students work under the supervision of a cooperating teacher and a college faculty supervisor, and are evaluated against the standards for teaching licensing prescribed by the Massachusetts Department of Elementary and Secondary Education.
Through study and interaction with faculty and supervisors, students develop an aesthetic vision of excellence in teaching; they come to analyze and think critically about teaching and learning, to foster the creative and analytical skills of their own students, to design various evaluative procedures, and use the results of these procedures to assess the effectiveness of their own instruction and of student learning.
The field of music education is a constantly developing one. Students gain knowledge and skills needed to adapt readily to changes in the field due to discoveries of ongoing research in learning as well as social, economic, and cultural changes. Through this program of study, students grow not only as music educators but also as leaders and as thinkers.
What Will I Learn?
Upon completion of a major in music education, students will:
synthesize musical styles, both current and past;
synthesize and apply pedagogical techniques from a variety of established music education traditions (e.g., the Kodály method);
communicate clearly, understandably, and appropriately with teachers, students, and parents;
design instruction which facilitates learning, consistent with the needs and interests of primary and secondary school learners;
design various evaluative procedures, and use the results of these procedures to assess the effectiveness of instruction and of student learning;
analyze and think critically about teaching and learning to foster students' creative and analytical thinking skills;
teach students in a way that is equitable, sensitive, and responsive to all learners;
synthesize the legal and moral responsibilities of the teaching profession; and
serve as leaders and advocates for music education and the arts.
Entrance Requirements
As an enrolled Berklee College of Music undergraduate student, you will be required to declare a major field of study by your third semester.
To apply to this major, you must complete your first semester of the general college core music requirements as well as an application and interview.
Curriculum and Courses
There are 62 (50 major-specific and 12 liberal arts) required credits specific to this major in addition to the B.M. required core music courses (41 credits) and liberal arts courses (42 credits, 30 for the LAS core and 12 that count towards the major) for a degree total of 131 credits. See the sample curriculum here.
Updated for catalogue year 2021 fall
Sample Curriculum by Semester
WATCH
Unlock the Minds of a New Generation
You'll be licensed to teach K–12 by the end of your music education training at Berklee. Join an inclusive culture of respect centering on learning from each other in order to become the best teacher you can be.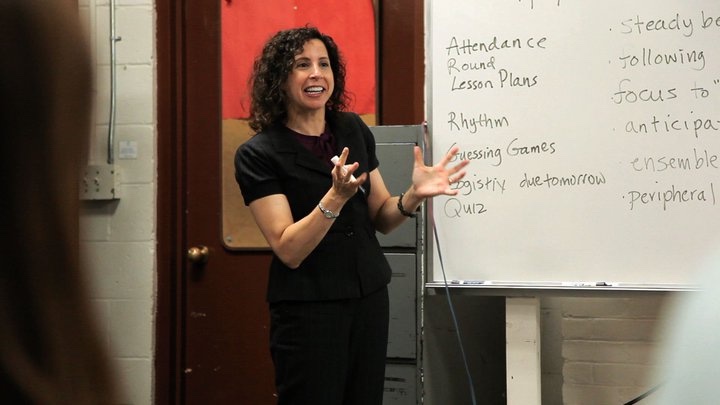 Meet Your Mentors
Berklee to Launch the Institute for Arts Education and Special Needs This Fall