Berklee Alumni Recognized at 59th Grammy Awards
February 13, 2017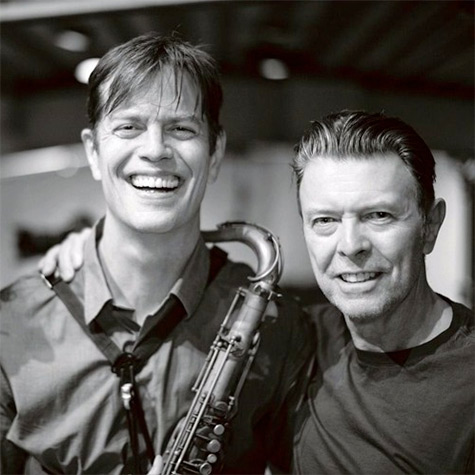 From R&B and jazz to musical theater, Berklee alumni were recognized across genres at the 59th annual Grammy Awards. Seven Berklee alumni and one faculty member were recognized for their contributions to many of last year's top releases, collectively receiving a total of 10 Grammy Awards on the music industry's biggest night. Lalah Hathaway '94 took home two Grammys: one for Best Traditional R&B Performance for her song "Angel," and one for Best R&B Album for Lalah Hathaway Live. Hathaway, who has now won Grammys in R&B categories four years in a row, joins the ranks of past consecutive R&B Grammy winners who are among the biggest names in the history of the genre, such as Aretha Franklin and Ray Charles.
"I stand on the shoulders of so many people that created beautiful music that started in the fields," Hathaway said in accepting the Best Traditional R&B Performance Grammy, "and now we're here. God bless you, Al Jarreau," Hathaway concluded, nodding to the vocalist who recently passed away and who many consider the greatest male jazz singer of his generation.
John Scofield '73 also received awards for Best Improvised Jazz Solo with "I'm So Lonesome I Could Cry," and Best Jazz Instrumental Album for Country For Old Men; Scofield recently performed at Berklee as part of its fall Signature Series lineup.
Stephen Bray '78, who last year won a Tony Award for Best Revival of a Musical, this year won a Grammy for Best Musical Theater Album for his work on The Color Purple. Just a few nights after performing at Berklee's Red Room at Cafe 939 with Banda Magda, percussionists Keita Ogawa '07 and Marcelo Woloski '07 were honored with Grammys for their work with popular jazz fusion outfit Snarky Puppy. Berklee Associate Professor Mike Block also received an award for his work as cellist with Yo-Yo Ma and The Silk Road Ensemble, winner of Best World Music Album for Sing Me Home.
To date, 114 Berklee alumni have won 275 Grammy Awards. One of this year's biggest winners was Greg Kurstin, who completed Berklee's Five-Week Summer Performance Program. Kurstin was honored with Grammys for Record of the Year, Song of the Year, and Album of the Year for his work on Adele's album 25, and another Grammy for Producer of the Year (in addition to Adele, in 2016 Kurstin worked with Sia, John Legend Carly Rae Jepsen, and Tegan and Sara).
During the ceremony, Donny McCaslin '88 accepted the Grammy for Best Rock Performance on behalf of the late David Bowie '99H. McCaslin, a saxophonist, was Bowie's primary collaborator on his final album, Blackstar, which featured McCaslin's band backing Bowie, and which was awarded five Grammys.
Watch McCaslin's acceptance speech on behalf of Bowie:
A list of Berklee alumni and faculty who won 2017 Grammys is below. This list will be updated as additional winners are confirmed.
Best Contemporary Instrumental Album (Category 11): Culcha Vulcha (Snarky Puppy). Bob Reynolds '00, tenor saxophonist; Keita Ogawa '07 and Marcelo Woloski '07, percussionists.
Best Traditional R&B Performance (Category 18): "Angel" by Lalah Hathaway '94.
Best R&B Album (Category 21): Lalah Hathaway Live by Lalah Hathaway '94.
Best Improvised Jazz Solo (Category 31): "I'm So Lonesome I Could Cry" by John Scofield '73, soloist.
Best Jazz Instrumental Album (Category 33): Country For Old Men by John Scofield '73.
Best World Music Album (Category 54): Sing Me Home by Yo-Yo Ma and the Silk Road Ensemble. Associate professor Mike Block, cellist.
Best Musical Theater Album (Category 58): The Color Purple. Stephen Bray '78, producer and composer/lyricist.
Best Historical Album (Category 68): The Cutting Edge 1965-1966: The Bootleg Series, Vol. 12 (Collector's Edition) (Bob Dylan). Steve Berkowitz '78, producer.
Note: An earlier version of this article referred to Greg Kurstin, who completed Berklee's Five-Week Summer Performance Program, as an alumnus. Berklee regrets this error.