As a contemporary writing and production major, you'll learn how to create and produce professional music recordings, exploring your role as a writer, producer, and conductor. Over eight semesters, while completing the college's core music curriculum, you'll acquire the aesthetic and technical skills required for work in a studio environment. You will work with a diverse community of musicians, faculty, and industry professional on the college's Boston campus, with access our state of the art technology and recording facilities, combining your bachelor's degree studies with real-world experience.
Program Details
Full Description
Students majoring in contemporary writing and production study arranging, composition, scoring for media, orchestration, production techniques, and advanced notation practices, and learn to apply these skills and concepts by writing for and overseeing the production of a wide variety of instrumental, vocal, acoustic, and electronic combinations, ranging from small ensembles to orchestras in live performance situations and recording studio environments. 
Students learn contemporary concepts and techniques of arranging and sound production using digital audio workstations (DAWs), digital production suites, and their own portable laptop-based studio. Interpersonal and other situational skills develop as students work with performers, clients (i.e., instructors and other students), and studio personnel in a variety of creative settings as a music writer, conductor, and/or producer.
Students in this major have many opportunities to recognize, analyze, and evaluate the musical concepts of a wide variety of contemporary styles including electronic, jazz, Latin, pop, rock, musical theater, global music, and many others through the study of compositions and arrangements. Interacting with faculty who are also professional writers, arrangers, and producers, students develop techniques and skills that enhance their creative projects. Applying the writing and production concepts and techniques learned through this major, students complete a graduation portfolio of five pieces to demonstrate understanding of traditional and contemporary writing and production styles. 
The contemporary writing and production major develops the skills and knowledge to function as a professional writer, arranger, and producer for current and new media under a wide variety of conditions and music industry environments.
What Will I Learn?
Upon completion of a major in contemporary writing and production, students will:
create and produce professional music for acoustic, electronic, and hybrid ensembles;
write and produce in a variety of contemporary styles;
compose and arrange music for ensembles of varying size and instrumentation;
produce a professional-quality recording on a digital audio workstation (DAW);
synthesize and apply knowledge of contemporary styles to the composition of original music;
record performances using both analog and digital tools;
analyze and transcribe music in a variety of contemporary styles; 
coordinate and supervise a studio recording session; and
create a graduate portfolio of five pieces that showcase their skills and support their career opportunities.
Entrance Requirements
Students who have declared contemporary writing and production as their major and received a grade of B or better in each of the following classes may continue in the major:
Note: for the purposes of the contemporary writing and production major declaration, entering student placement into AR-112: Arranging 2 (or higher) or HR-211: Harmony 3 (or higher) is equivalent to receiving a grade of B or better in AR-111 or HR-112, respectively.
Students who receive a grade of less than B but more than D (e.g., B-, C+, C, or C-) in these classes will be removed from the major and deregistered from contemporary writing and production concentration-specific classes. They must then meet the following requirements to redeclare the major: 
For MTEC-111: Students must take another technology class (such as MTEC-112, MP-110, EP-210, EP-225, or EP-250), and get a grade of B or better. Students who do not receive a grade of B or better need to see the department chair.
For AR-111 and HR-112: Students must receive a grade of B or better in their next arranging course, AR-112: Arranging 2. Students who do not receive a grade of B or better in AR-112 need to see the department chair.
While these courses are not repeatable for credit, students who receive a D in any of these classes (MTEC-111, AR-111, and HR-112) must repeat that class and receive a B or better before redeclaring the major. The higher grade will count towards the student's GPA. 
Curriculum and Courses
There are 30 credits required for this major. To view the full program of study, which includes core music, liberal arts, and general electives please see the sample curriculum for the bachelor's degree.
AR-112: Arranging 2 (2 credits)
CW-171: Groove Writing (2 credits)
CW-191: 

Sequencing and Production Techniques

 (2 credits)
CW-211: Advanced Ensemble Writing (2 credits)
CW-216: Vocal Writing (2 credits)
CW-333: Studio Writing and Production for the Recording Studio (2 credits)
CW-397: Collaborative Studies in Music Production (1 credits)
CW-261: DAW Writing and Production (2 credits)
CW-311: Writing for Big Band (2 credits)
CW-361: Mixing Concepts and Applications for Writers (2 credits)
CW-411: Writing for Orchestra - Studio Orchestra (2 credits)
CW-422: Advanced Production for the Writer (2 credits)
CW-497: Directed Study in Contemporary Writing and Production  (1 credits)
LMSC-207: Applied Acoustics for the Writer/Producer or LMSC-208: Principles of Music Acoustics (3 credits each)
2 credits of major electives
One advanced technology elective (2 credits each): CW-370: Video Game Scoring Fundamentals, CW-435: Contemporary Orchestration for Digital Audio Workstations , CW-450: Scoring for Advertising, CW-461: Electronic Writing and Production, CW-465: Contemporary Writing for Immersive Experiences, CW-470: Writing and Producing for Music/Media Libraries, or PW-321: Music Writing and Production with the iPad
Completion of the graduation portfolio
Passing grade on the music preparation proficiency
See your major grid for complete program information
Updated for catalogue year fall 2020.
Sample Curriculum by Semester
WATCH
A Versatile Skill Set
The contemporary writing and production major enables students to become well-rounded musicians adept at turning concepts into music for any situation. An understanding of production technology and the mixing process becomes another part of the writer's toolkit, allowing a composer to better highlight each instrument's unique role in a composition. The dual focus of the major allows students to develop a flexible skill set that provides for limitless career possibilities in the changing music industry.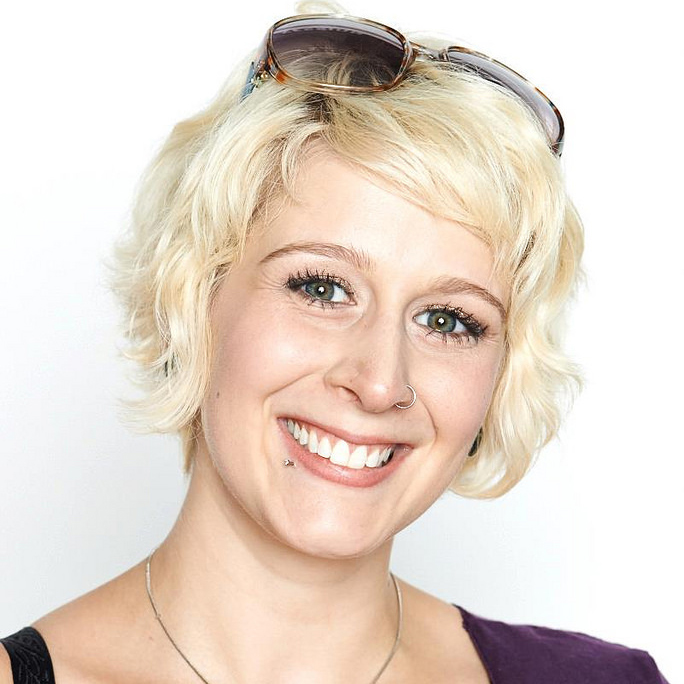 Meet Your Mentors
Chrissy Tignor, Assistant Professor of Contemporary Writing and Production