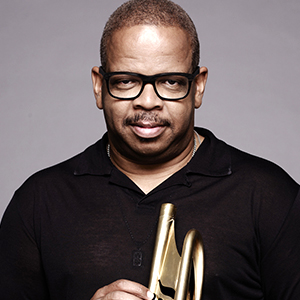 Terence Blanchard made a name for himself early in his career as a top-tier jazz trumpeter from New Orleans who has gone on to enjoy a multifaceted career both in the jazz camp and beyond. A five-time Grammy winner, Blanchard is also an accomplished composer of film scores and soundtracks, operas, and Broadway scores.
He serves or has served as artistic director of several important entities, including the Detroit Symphony Orchestra's jazz series; the Thelonious Monk Institute of Jazz, and the Henry Mancini Institute at the University of Miami.
A veteran of Art Blakey's Jazz Messengers (recommended by Wynton Marsalis as his replacement in 1983), Blanchard launched his career as a solo bandleader in the early 1990s, eventually delivering nine albums for Columbia and Sony before signing with Blue Note in 2003. To date, he has released more than 20 solo albums.
Watch an excerpt from Blanchard's talk at Berklee:
Recognized as a legendary composer, arranger, and bandleader, Blanchard's work as a trumpeter is perhaps best described by Vanity Fair: "He plays the most coolly expressive trumpet in jazz, transmuting the instrument's repertoire of smears, growls, peeps and blasts into an astonishingly fluid language both luxurious and controlled.''
Blanchard became a go-to composer for film beginning in the early 1990s, sparked by his work with director Spike Lee. He scored Lee classics Jungle Fever, Malcolm X, and 25th Hour; and composed the music for Lee's 2006 post-Katrina HBO documentary When the Levees Broke: A Requiem in Four Acts. He has composed more than 50 film scores to date.