Presented By
#BerkleeTogether Concert Series
Alex Maes and the Connection (Virtual Concert)
This event has passed.
Please see the
events listing
for upcoming events.
Event Dates
Wednesday / May 5, 2021 / 8:00 pm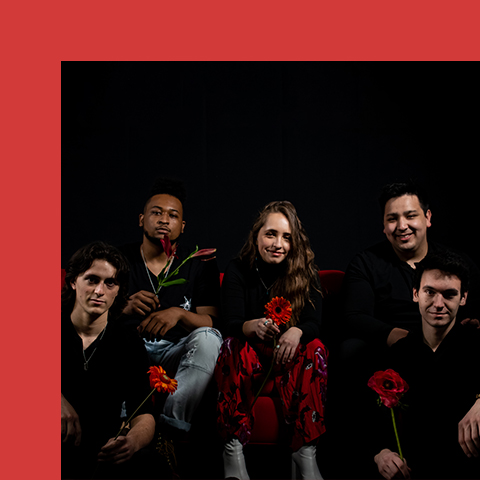 The #BerkleeTogether Concert Series features students performing together virtually from different locations around the globe. Whether at home, in a recording studio, on a balcony, or on a mountaintop, #BerkleeTogether videos will showcase the unique artistry and collaborative spirit of the Berklee community. Join us every other Wednesday at 8:00 p.m. ET on Berklee's YouTube, IGTV, and Facebook pages.
This week, Berklee students Alex Maes and the Connection will perform an original, "No." The group comprises Alex Maes (vocals, songwriting, arranging, engineering, and producing), Matt Ho (assistant engineering and editing), Warren Pettey (keys, piano, and mixing), Kevin Barber (bass), Flynn Tanner (electric guitar), Francisco Morales (drums), and Evan Belliveau (cinematography and lighting).
About the Artists
Alex Maes grew up in a small town in Colorado nestled in the Rocky Mountains. She developed a knack for songwriting and performing when she was 10, and shortly after formed a rock-pop group with friends, touring the state and gaining a love for performing. Eventually she received a full ride to Berklee College of Music, where she began exploring the depths of her artistry and met the artists who would become Alex Maes and the Connection. The group is a Boston-based nu-funk band that has been together since 2019. They play catchy original material that Maes composes as well as covering popular songs in their funk-jazz style. With Francisco Morales on drums, Warren Pettey on keys, Kevin Barber on bass, Flynn Tanner on guitar, and Maes on vocals, Alex Maes and the Connection are impossible to ignore with their infectious grooves and contagious arrangements.   
How to Watch
Tune in at 8:00 p.m. ET on Berklee's YouTube, IGTV, or Facebook pages. If you miss the show, archived performances can be found on Berklee's YouTube channel, IGTV channel, or Facebook Videos page.