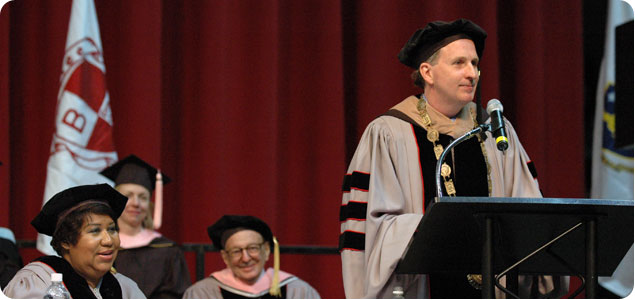 Kenneth Gamble Delivers Commencement Address
More than 850 graduates from 54 different countries received degrees today at Berklee's 2010 commencement, held at the Agganis Arena at Boston University. Berklee president Roger H. Brown presented honorary doctor of music degrees to legendary songwriting team and Sound of Philadelphia architects Kenneth Gamble and Leon Huff; Spains most influential flamenco artist and one of the world's most revered guitarists Paco de Lucia; Africa-born singer/songwriter and humanitarian Angelique Kidjo; and jazz pianist, composer, and bandleader Kenny Barron. Gamble delivered the commencement address to the graduating class and more than 4,000 guests.
The annual commencement concert took place on graduation eve, May 7, also at Agganis Arena. Some of the college's most accomplished students presented a tribute to the honorees with performances of music associated with their careers. Near concert's end, Kidjo, a native of Benin, provided a high-voltage surprise when she stepped on stage to sing "Afrika" with the student group Women of the World. Earlier in the set, Barron took the stage to perform his composition "Phantoms," joined by his granddaughter and graduating class member Nikara Warren on vibes along with a band composed completely of graduating seniors. Other concert highlights included a medley of O'Jays songs, including the Gamble and Huff classics "Backstabbers" and "For the Love of Money," and de Lucia's "Zyrab" and "Solo Quiero Caminar," performed by a 12-piece band with students from Spain, Israel, and Brazil.
In his commencement address, Gamble encouraged the class to be more than songwriters, guitar players, or business people, but also ambassadors of love through their music. He quoted "Love Train," a number one hit that he and Huff wrote for the O'Jays: "People all over the world/Join hands/Start a love train/Don't miss it/'Cause if you miss it/I'll feel sorry For You," and led a brief sing-along of the universally familiar chorus.
"It's wonderful to be young and gifted," he said. "The future is like a piece of clay. You have the ability to mold it and shape it any way you want. It's right in the palm of your hands. But you have to be committed, you have to be persistent and you have to persevere through all of the setbacks to make your dreams come true. Learn from yesterday, live today at it's maximum, and do great planning for tomorrow."
When Leon Huff accepted his honorary doctorate alongside Gamble later in the ceremony, he thanked God for meeting his songwriting partner, and told the audience how much he has enjoyed their relationship.
Kenny Barron confessed to being blown away by the talent in the previous night's concert, and said that receiving his award on the day that his granddaughter was graduating was a double honor for him.
De Lucia recalled that his earliest memories of flamenco music were hearing his father and neighbors perform it in the small community at the southernmost tip of Spain where he lived. He continued: "Now its sound has been extended all over the world, including here at Berklee" he said. "Today flamenco music is celebrated at the most important music college in the world. I feel that today is a triumph of revolution. This honor legitimizes the art that I have been defending all my life. When recognition is born from knowledge and understanding, nobody doubts it."
Kidjo told the graduates that performing with some of them on stage was a ball and that to her ears, all of the musicians sound like they are on their right pathways. "My mother used to tell me that when you hit that stage you have to be ready to be naked spiritually," she said. "It doesn't matter how beautiful you look on stage, it's who you are in your soul and what you are willing to tell other souls who come to hear you play. Show it. Let it shine. And, use music as the weapon of peace."
This year's honorary doctorate recipients were recognized for their achievements in contemporary music, for their enduring contributions to popular culture, and for the influence their careers and music have had over Berklee's international student body. Gamble, Huff, de Lucia, Kidjo, and Barron join the ranks of such esteemed recipients as Duke Ellington, David Bowie, Count Basie, B.B. King, Sting, James Taylor, Aretha Franklin, Pat Metheny, Loretta Lynn, Dizzy Gillespie, Billy Joel, Bonnie Raitt, Quincy Jones, Aerosmith's Steven Tyler, Smokey Robinson, Linda Ronstadt, and Patti Labelle.
Berklee's class of 2010 included more than 850 students graduating with bachelor of music degrees or professional diplomas. Female graduates numbered 282, representing 33 percent of the total class-an increase of five percent from 2009. International students from 54 different countries made up 34 percent of the class-an increase of 21 percent from 2009. The largest number of graduates from outside the U.S. were from South Korea and Japan. Spanish and Latin American graduates numbered 57-an increase of 15 students from 2009. Domestic students were from 44 U.S. states-the greatest number from Massachusetts, California, and New York. The top three majors were professional music, performance, and music business/management. Guitar, voice, and piano were the three most common means of musical expression among students of the graduating class.