Interview with Steven Tyler
Rob Hochschild
Berklee.edu Editor
June 5, 2003
Although you might not guess it from his charismatic onstage persona, Aerosmith lead singer Steven Tyler comes across, in person, as a pretty regular guy. He talks a lot and occasionally bursts into song in the middle of a sentence, but rather than seem off-putting, his hyperactivity is part of a friendly and accessible charm.
He has made this impression during two recent visits to Berklee: last May, when he began a long clinic by greeting legions of students on his way to the stage; and this May, when he did what Berklee's rock star honorees almost never do. He sang one of his classic songs with a student band in front of 1,200 people. He is a man who wears his fame well.
"Humility is really important because it keeps you fresh and new," said Tyler after the 2003 Commencement. "I think it's just an overblown ego that forgets humility...I like to call myself a realist because I don't put the veneer over [myself]. There's a huge cement brick wall between those that get it and those that don't. And when you meet them, you know immediately. And that line about 'I was having a bad day don't fly.'"
May 10 certainly was a good day for Tyler; he received his first honorary doctorate degree at Berklee's commencement with his parents, wife, and children in attendance and gave one of two commencement addresses, along with jazz singer Dianne Reeves.
After the ceremony in the Reggie Lewis Track and Athletic Center, Tyler met with reporters in an upstairs room while a few friends and family members sat nearby, chatting with each other. Tyler's 11-year-old son, Taj, munched on an omelette, and his 14-year-old daughter Chelsea wore headphones attached to a portable CD player. Tyler had promised to answer questions for 15 minutes but talked for nearly a half hour.
"Far be it for me to be estranged by somebody that comes up to me and wants a piece of me," Tyler said in response to a question about dealing with fame. "They don't deserve to be in my backyard and climbing up my roof, which a lot of people do. But you've reached them, and I've always wanted to reach people. I'm the first one to say I love my fans because they love that I took a chance."
Tyler's early exposure to music came from his classically trained father, who let his son (born Steven Tallarico in 1948) sit under the piano while he practiced. Tyler played drums as a teenager growing up in New Hampshire, moved to New York after high school, and then back to New Hampshire in the late 1960s, where he met most of the musicians who would become his Aerosmith bandmates. After beginning as a trio, the band expanded to five members—Tyler, guitarists Joe Perry and Brad Whitford, bassist Tom Hamilton, and drummer Joey Kramer—and moved to Boston. Whitford and Kramer both attended Berklee during the band's early days.
"Fake it until you make it," Tyler said, remembering his guiding principle before the band landed a record deal. Tyler asked Perry for an autograph in 1970 because he wanted to pretend he was already in a popular band. "I thought if I could write a song with Joe or somebody, and if people loved it, that would be it for me."
The first song that put Aerosmith on the map was "Dream On," the power ballad from the band's debut album that peaked at #59 in 1972 and cracked the Top Ten when it was re-released in 1975.
Steeped in blues, Aerosmith makes music influenced by pop, hard rock, and heavy metal. Tyler is at the center, with a powerful voice that can veer from a gritty blues growl to a window-rattling scream within a few beats. And he is known as one of rock and roll's most dynamic and colorful performers, the man who embodies the band's outrageous take on sex, partying, and contemporary life. But more than anything, Tyler has developed a reputation as an energetic singer who takes brave chances on stage every night, a trait he said Berklee students also displayed when they paid tribute to him and Reeves on commencement eve.
"They got this freedom thing, the no-fear. I call it the dare-to-suck syndrome," said Tyler about student performers. "That's how you write a song, too. You've got to put in ten stupid things if you want to get two great out. That's where it's at. Dare to suck...There's the creativity. There's the childlike godness. (They were) just brilliant and great to let their spirits soar like that."
Midway through the commencement concert, Tyler was introduced to the crowd. After waving from his seat, he made his way to the stage and sang "Dream On," backed by the student band. In recent years, stars such as Sting, Billy Joel, and David Bowie have been honored at Berklee, but Tyler was the first rocker to join students on stage since Phil Collins, in 1991. While student performers couldn't seem to stop smiling during the song, audience members, including many graduates' parents, screamed and cheered throughout.
Tyler's decision to join the students made the 2003 Commencement one of Berklee's most memorable, but Tyler was quick to downplay his role.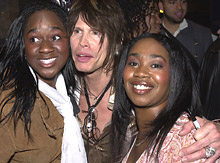 "Oh, forget about that. The icon show," Tyler said.
The rise and fall and rise again of Aerosmith has been one of rock's most told tales. As the band sold more and more records during the 1970s, its members' abuse of drugs and alcohol increased. In the late 1970s and early 1980s, those addictions and creative differences almost led to the band's breakup, as some members pursued solo careers. But by the end of the eighties, the band had released two successful albums—"Permanent Vacation" and "Pump"—marking a complete comeback. Aerosmith has continued to release chart-topping and Grammy Award-winning records ever since.
When Tyler wasn't singing, speaking, or hanging out with students during commencement weekend, he was with his bandmates, rehearsing and recording tracks for a new Aerosmith album composed exclusively of blues tunes. As Tyler talked about the album, he sometimes stopped to sing lines from a few of the songs, one of which he recorded with the band just before heading to the commencement concert.
The blues record, which the band plans to release in the fall, will feature both originals, like a slow blues called "Girls of Summer," and standards like "Baby, Please Don't Go" and "Back Back Train," which features Perry on lead vocals with Tyler providing a harmonica part he recorded while standing in Perry's shower.
"This is more homage to where we came from. Janis Joplin was the first concert I ever went to," said Tyler. "I sing that the best. Why am I keeping away from it? We still put blues in everything we do. Joe and I can't help it."
A member of Tyler's team gave the signal for one final question, saying Tyler had to leave for a rehearsal. The question was asked, and answered, and everyone had started to walk away, but Tyler wasn't done talking.
"If you tell anyone anything, drums and piano before they even come to Berklee," Tyler said. "Ear training and rhythm and there's the secret. The real secret is learning not only how to dance but how to dance between the notes."
It sounded like the new doctor of music had already drafted his dissertation.