Presented By
Summer in the City
Chris Peters
This event has passed.
Please see the
events listing
for upcoming events.
Event Dates
Thursday / September 2, 2021 / 12:00 pm
Waterfront Plaza, 290 Congress Street
Boston
MA
02210
United States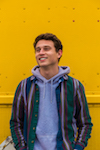 Since 2012 Chris Peters has been building a reputation as a true visionary in the music scene. Starting out creating music and playing gigs in the Chicagoland area, Chris quickly built a devoted fanbase. As a current student at Berklee, he continues to draw crowds from far and wide, and spread musical light in every new destination. Visit Chris's Instagram page to get in touch or learn more about upcoming gigs.