Cultural Immersion: Study Abroad in Athens
July 24, 2009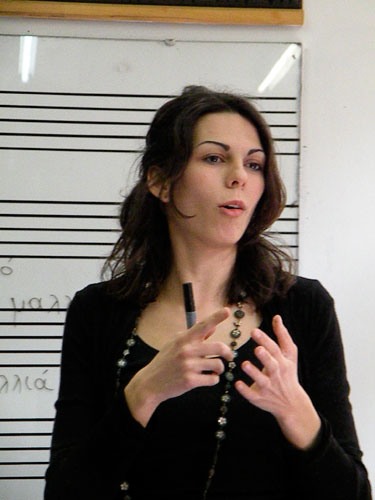 Paris Nicole Strother honed her skills at Berklee as a pianist/keyboardist and composer, immersing herself in the vibrant, highly charged environment. Her musical journey reached new heights nearly 5,000 miles away, where she studied at Philippos Nakas Conservatory in Athens. 
The result was transformative—both musically and personally. The geographical and cultural distance provided by the Berklee International Study Abroad Program opened up myriad opportunities for Strother, who studied in Athens in spring 2007.
"It's really incredible to see how big, yet how small the world is," says the 2008 contemporary writing and production major from Minneapolis, Minnesota. "Being an American, it's cool to get away from the States and see how people in other countries are living, independent of our doctrine."
Now in Los Angeles, working as the special programs coordinator for the Thelonious Monk Institute of Jazz and gigging as a pianist, Strother keeps her Athens experience close; whether it's writing pieces that remind her of the ancient land or returning to the city to honor her former teacher, the late drummer and Berklee alumnus Kostas Kouvidis.
The study abroad program at Nakas could be the perfect fit to expand your musical horizons and get a life experience you'll never forget, Strother says. "It's learning to be independent in a completely different way, if you're open-minded and want to learn about the world, and have open ears." 
One of the founding members of the Berklee International Network, Phillipos Nakas Conservatory in the heart of Athens has been host to the ISA program since spring 2006.
Jason Camelio, director of educational operations for Berklee's International Programs says studying abroad opens up unexplored territory and opportunities, serving as a nice complement to a Berklee education.
"Berklee already provides the best contemporary music education experience in the world. Students are allowed to cut their teeth in an environment that allows them to grow," he says. "The enhancement comes when we provide our students the opportunity to transfer the music educational experience into a completely foreign place. Adding the dynamic of a new language, landscape, culture, and educational model provides study abroad students the chance to develop their ability to adapt, quickly, to a new scenario."
At Nakas, Berklee students continue courses such as arranging, harmony, and ear training, and private instruction, while also taking a required series of Greek culture block classes: Greek Civilization, Modern Greek Language, and Greece Crossroads of Rhythm and Sound.
Petros Kourtis is just one example of the caliber of instructors at Nakas. Known throughout Greece for his killer percussion chops and as an opening performer at the 2004 Olympic Games in Athens, Kourtis teaches a Mediterranean Percussion Lab and Greece Crossroads of Rhythm and Sound. At Nakas, he initiates students to the tradition of Greek music.
Field trips to places such as Delphi, the site of the ancient oracle, augment the Greek Civilization course, giving students so much more than a history lesson, thanks to professor John Karavas, a world-renowned archaeologist who can compete with any tour guide in Athens.
With influences at their fingertips including classes such as these, ensembles with Greek students, and shows around the city, Berklee students have incredible opportunities for soaking up Greek culture. 
But they're not the only ones who benefit from the study abroad program. Nakas's managing director Leonidas Arniakos says his own students also benefit from the exchange.
"I think it's a very good experience for our students to be able to work together and study under the same roof with students from Berklee," he says. "Berklee is considered the most important school in contemporary music and the students are bringing their educational knowledge and background, even their spirits and ambitions."
Berklee students' Greek counterparts are exposed to their drive and ingenuity. Meanwhile, Athens provides a different kind of atmosphere allowing extra space for the creative process. 
"Studying music, or any creative art, at a location in Europe allows the student a dramatically different perspective," says Camelio. "In the U.S., we tend to be consumer- and results-driven. In Athens, there is a serious appreciation for the process . . . savoring time spent studying, practicing, writing, and producing."
Da'Rayia Wilson, a vocalist from Claymont, Delaware on board for the spring 2009 trip, saw this firsthand. "I've learned to just chill and surrender myself to the art."
The relaxed atmosphere has been a boon for creativity. Ricky Reilly and Josh Watkinson got their singer/songwriter juices flowing and found a great pocket for inspiration among all the new sights, smells, and of course, sounds.
"I needed to switch up the routine of Berklee," says Watkinson. "This is a great place to do that."
The cultural immersion that takes place as a result of studying in Athens is invaluable. It's up to the individual how deep one goes, whether it's merely getting by with hello and goodbye or making a concerted effort to learn the language, train system, customs, and even ancient Greek instruments. This serves to enhance the international experience Berklee students enjoy in Boston.
"The exchange of culture, ideas, music, food all happens within the context of the college life experience in Boston. In many ways this helps to prepare our students for some of the professional music experiences they will have in their careers," says Camelio. "The major benefit of the semester in Athens program (and other study abroad programs) is that we get to flip the equation. Students from the United States as well as other international locales engage the educational, musical, and life experiences in Athens, Greece. It is an important test for this generation of music that is seeking to succeed in the global music marketplace, and a world that is more connected that ever before."
The Athens experience stays with the students long after they head back to Boston. Rich Appleman, chair of Berklee's Bass Department, who with his wife Jane stayed in Athens for the first semester of the program to help guide the students in this new territory, can attest to this. "Jane and I have seen so much growth in these students since they have returned and graduated. Whenever we have seen them over the years, they always talk about their Greekexperience."
International Influence
The experience informs the students' music, says Arniakos. "Naturally, Greece is a crossroads between East and West as a geographical position. In this sense, the influences we have regarding music are coming from East and West." While the odd meters and rhythmically complex arrangements can be intimidating, the Berklee musicians invariably find connections. "It's offering them a more inclusive perspective for music."
Living in a foreign country can be intimidating, but the Nakas staff goes above and beyond to make Berklee students feel at home. "It's a big step they are taking," Arniakos acknowledges. "They are going to live for a semester in a strange, small country. They are having to face difficulties with language and customs. To this end, we try to make it as easy as possible for them. But by being exposed to all of this, they are acquiring a big piece of social knowledge, which in the long term is very practical and good for them."
From Strother's perspective, it only behooves you to take advantage of the cultural differences. In doing so, the similarities will become more apparent. "Your Greek counterparts—they are you, from a different part of the world."