Music College: Smart Choice in the New Economy
May 13, 2009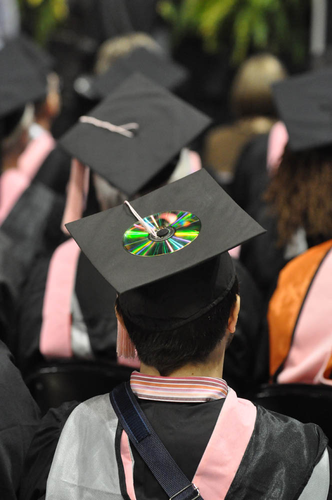 Is music recession-proof?
When the economy goes down, hemlines go up... and so does the entertainment industry. Believe it or not, people spend more on music in hard times, said Dwight Heckleman, Berklee's career development and job recruitment coordinator.
Which means that students graduating this week into the 2009 economy are finding it less rough than they might have feared.
Graduating saxophonist/composer Kyle Nasser left his Harvard economics degree aside to study jazz at Berklee. Now, watching banker friends face layoffs, he said, "Who would've thought I'd have picked the safer career path?"
Although the old guard of the music industry started declining a decade ago, that means good pickings for the innovative and adventurous.
Among the class of '09, "there's been more of an entrepreneurial spirit of starting new companies," said Brandon Kress, the graduating student body president. He's moving to L.A., where he wants to find a job—any job—in the music industry and write music after-hours.
To be sure, students need to hustle. Like Kress, "they may have to do more than one thing," Heckleman said, cobbling together full-time employment. But most came to Berklee expecting that, he thought: "Because so many Berklee students are musicians first, they're pretty tuned in to the idea that no one's going to be handing them a job."
Brian Schopfel figured it out. The graduating codirector of Heavy Rotation Records got his dream job through persistence, pursuit, and chutzpah. In December, he discovered Jeff McClusky & Associates, a large music promoter that handles acts like U2 and Madonna. Immediately, he knew where he wanted to be.
So he cold-called and landed an interview—for a job that didn't exist. "I kind of made one for myself," he said, by analyzing the company's needs and presenting his ideas. In March, they clinched the deal, creating an associate project manager position.
"I didn't really want to be anywhere else," Schopfel said, "and I made it clear... that I was going to do what I had to do."
To help students, the Career Development Center has amped up its offerings. Berklee doubled its on-campus auditions this year from cruise lines, theme parks, Cirque du Soleil, and other large entertainment employers, and could have held more, Heckleman said. That, plus the low numbers of alumni coming back for help, shows that jobs are still out there.
Schopfel said some niches were thriving, particularly digital companies and live music. Kress's professors gave out tons of contact info and tips for creating a career "without being a slave to the major music industry," he said.
In addition, more earlier-semester students are visiting the CDC to get a head start. Joseph Herrington-Palmer is only two semesters into Berklee, but he went to the Disneyland on-campus audition. This summer he'll play the drums five times a day with the marching band and big band—no mouse suit required.
Herrington-Palmer didn't fear the future because "it's not necessarily as bad as if I was a lawyer or a stockbroker," he said. "People will always want to be entertained."
"I don't think there's any reason for any Berklee grad to feel intimidated by the environment now," Heckleman said.
Which is news parents will surely like. Perhaps someday the class of '09 will tell their teenagers, "Forget business school. You should study music."
2009 Commencement Coverage