Bernice Johnson Reagon on Freedom Fighting
April 10, 2009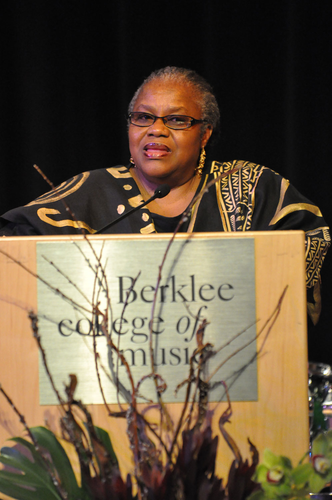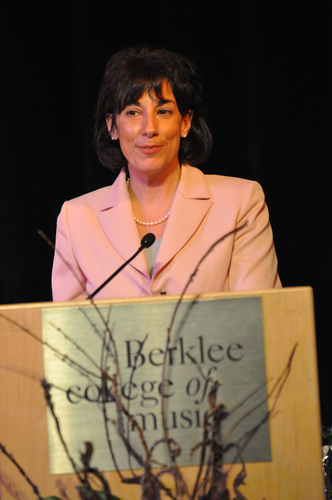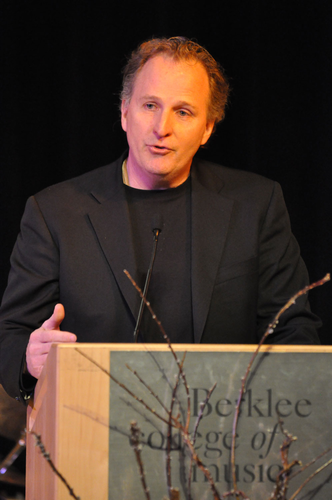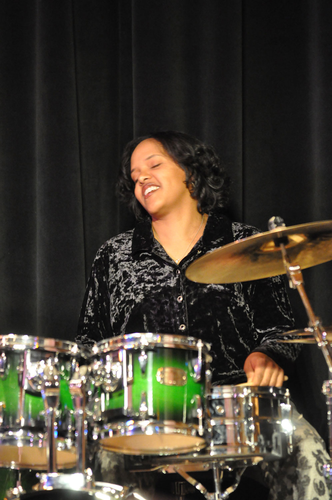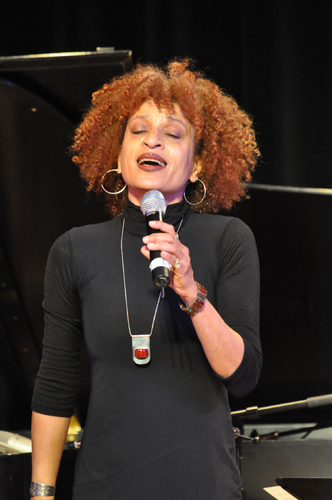 Bernice Johnson Reagon raised us in song. She helped assuage our pain and stress, like a balm of Gilead. As guest speaker of Berklee's 15th annual Liberal Arts Symposium, Sweet Honey in the Rock founder Reagon inspired a packed house at David Friend Recital Hall with partly sung memoirs and advice from her life as a freedom singer. 
Setting the celebratory tone, choral director Renese King led 15 students in Reagon's exuberant settings of "Freedom Train" and "Little Red Caboose," complete with whistles, chugs, and locomotive force.
Reagon began her keynote by singing a soft spiritual, and told us, "I was born among singing. I don't know of breathing or eating, without singing. I don't mean from the radio (a wonderful invention) or from the iPod (another wonderful invention). I mean [singing] like walking and talking, like the air you breathe, so you didn't define it in any particular way, because it was woven inside the you you came to know, the house you grew up in, the yard you played in, the school you went to, the church you went to. It was singing by the people around you."
As Reagon recounted her life as a singer, freedom fighter, and musicologist, she sang snippets of songs such as "Hold My Hand" and "Stand by Me," and we followed. Reagon recounted the tragic death of Georgia freedom fighter Harry Moore, and read Langston Hughes's poem to him that she'd set to song, "Freedom Never Dies."
The top three winners of the Songwriting and Social Change Contest (out of 120) performed their songs with the chorus: Sidharth Sriram ("We Will Stand Tall"), Robert Gillis ("Change the World"), and Meltem Ege ("Make a Difference"). The titles give you an idea of the lift they gave us!
Berklee president Roger H. Brown lauded innovative leaders from his home state of Georgia, both musical (Ray Charles, "Little" Richard Penniman, James Brown, Amy Grant) and political (Martin Luther King Jr., Jimmy Carter, Ralph Abernathy, Andrew Young), and included Reagon in that august company. He and provost Larry Simpson, enrobed, conferred on Reagon a Berklee honorary doctorate of music.
Percussion professor Terri Lyne Carrington led a sextet in her dramatic jazz interpretations of three Reagon songs, bringing onstage a surprise guest vocalist, ex-Honey member Evelyn Harris. The wondrously transformed songs were "Ella's Song," "Echo," and "You Are My Sunshine."
The chorus returned with Reagon's exultant arrangements of songs by Brewster, Camp, and Batson; a field holler by Leadbelly; and a lively Robinson calypso, "Education Is the Key." "In The Upper Room" featured dynamic lead vocals by professor Donna McElroy and rich response from bass and from Chicago freshman Torrence Nelson.
To close in jubilation, songwriting assistant professor Mark Simos and alumna Keppie Coutts sang and played a song especially composed in honor of Reagon, "Jubilee Hall," that brought the full house to its feet, chiming in on the rousing chorus.
On Freedom Fighting
"If you find yourself in the middle of a struggle, you might think you're the first because you don't know your history. You may think you're a freedom fighter if you have some gray hairs, but you will not be the solution to the problem. We [elders] must block (i.e., run interference) for the youngsters who run their mouths about troubles they see."
On the Difficulty of Writing
"In talk-writing, you hear it; it should feel like somebody talking, like it was into a tape recorder. I had to give myself permission to do that because it's so different from the way I was trying to write as a historian. In graduate school, I gave myself permission to go for a writing style that would make it feel like my voice was coming off the paper. . . . I wrote myself in as if I was there."
On Singing During Lectures
"Very seldom will I get up and not sing. It's something about cleansing, or preparing, the air. Even if I start with a song and don't sing another, it's about grounding myself in that place. It settles me down. Now I usually will know what I'm going to do in terms of elements, and very seldom do I read. But now sometimes the words disappear from my head. So I always have a paper [in front of me], just in case the computer has a glitch."
On America's Cultural Smorgasbord

"Growing up in the United States, you can be exposed to a cultural smorgasbord where you can feel like you're actually involved in experiences that you didn't grow up with. Young people who fall in love with black music . . . can execute blues and doo-wop because they study it with the intensity that others study arias."