Caribbean Jazz Showcase
January 28, 2009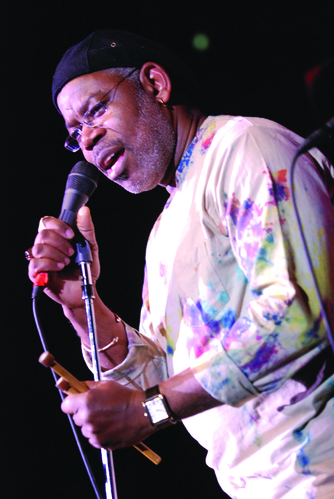 Presented by Berklee's Africana Studies/Music and Society initiative, the Jazz as Culture, Language, Being, and Music series continues with a night of Caribbean jazz, featuring the college's Bob Marley, Steel Pan, and Afro-Cuban ensembles, on Thursday, Feb. 19, 2009 at 8:15 p.m., at the Berklee Performance Center. General admission is $5, seniors $2. Tickets are available at the BPC box office. Call 617 747-2261 or visit berkleebpc.com.
The 15-member Bob Marley Ensemble, directed by Matt Jenson, assistant professor of piano, will perform Jenson's arrangements of the Jamaican icon's music, including "Could You Be Loved," "Stir It Up," and "Rastaman Chant." The ensemble is an integral part of the class The Music and Life of Bob Marley, which Jenson has taught at Berklee since 2002.
The 11-piece Afro-Cuban Ensemble, directed by Ricardo Monzon, assistant professor of percussion, will perform the music of Cachao and other up-tempo Afro-Cuban tunes in such styles as mambo and rumba.
The Steel Pan Ensemble, directed by Ron Reid, associate professor of contemporary writing and production, will perform music by Trinidadian composers Ray Holman, Lennox "Boogsie" Sharpe, and Earl Rodney, in a range of styles including pop, calypso, and contemporary jazz. Reid will also perform his own tunes. The steel pan is a pitched percussion instrument and a form of music originating in Trinidad and Tobago.
Grammy-nominated trombonist and Berklee alumnus William Cepeda—who has created a music style titled Afro-Rican jazz and has worked with legends such as Dizzy Gillespie, Celia Cruz, and Eddie Palmieri—will be a special guest performer for the evening.
Africana Studies provides innovative, substantive, and sustained connective programs in Black music culture at Berklee. Its focus is on the study of black music practice, history, and meaning. This includes the study of traditional West African music, spirituals, ragtime, blues, jazz, gospel, r&b, reggae, soul, music in South America, Cuba, and the Caribbean, and contemporary urban music traditions. Africana Studies aids in curriculum and student development by increasing the understanding and appreciation of the music and culture, and the roles artists have had in transforming modern culture and society.