Student Profile: Julia Easterlin
December 22, 2010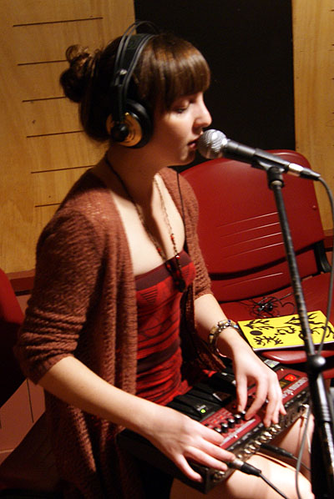 When Julia Easterlin joined Berklee's Interarts Ensemble for a trip to Cuba, it may have seemed like an odd pairing at first. The members of the group create electroacoustic music using laptops and various MIDI controllers, and although Easterlin manipulates her voice with a loop pedal, she primarily considers herself a singer, not an electronic musician.
But the vocalist's early coursework in both the music production and engineering and electronic production and design majors at Berklee helped her understand the vocabulary of her fellow musicians and collaborate with them. There's no arguing with the results.
I caught up with Easterlin just after her return from Cuba; the following is my condensed and edited conversation with her.
How do you create the complex, layered effects in your songs?
I record myself live. So I record something, then something else on top of that, and something else on top of that, and it ends up sounding like a whole choir of voices doing all the parts, including bass line, percussion, and harmony.
I think of my voice as my instrument and the pedal as a tool that helps me use my instrument the way I want to. Once I have an idea in my head of what I want a song to sound like, it's pretty easy to keep it all organized, because then it's just like putting it on paper. For me music is very visual; it kind of looks like a quilt in my head, and then I just trigger the loops when they come up in the quilt.
How did you first start incorporating electronics into your music?
I spent about a year performing in coffee shops during high school and accompanying myself on piano and guitar, but I always felt very uncomfortable singing and playing at the same time. I just don't feel like I can ever really focus on either one of those things as much as I want to when I'm doing them simultaneously. I had heard of people using a loop pedal for guitars, and I thought, "I can do that with my voice." So it was a little bit out of laziness and anxiety that I chose to work with the pedal.
I had done some work in a cappella vocal groups, so I understood the concept of creating a whole band out of voices. But I hadn't seen anyone use a loop pedal. And then after I used the loop pedal I discovered this whole world of other vocalists using similar technology.
Why did you choose professional music as a major?
I chose pro music because after a year and a half of very specialized study in MP&E and [electronic production and design], I realized that I'm not a good specializer. I went to Davidson Fine Arts School in Augusta, Georgia for middle and high school, and I was able to entertain lots of different muses at once. I was studying dance; I was also studying piano; I was also singing; I was also studying visual arts; I was also acting—I was doing all of these things. So after a year of really specialized study, I realized I wanted to be able to branch out into other areas. Now I'm doing some interesting vocal labs, I'm taking some cool business classes, and I'm doing some career planning seminars. The pro music major enables me to think about lots of different things at the same time, which is how I like to work.
I've found ways outside of school to do that, too. I have a friend who's a wonderful photographer, and she and I work together on collaborative photo projects. A photo that she and I did together was on the front cover of the Weekly Dig. There are salsa dancing classes in Boston that I sometimes go to, and there's this place called the Dance Complex in Cambridge that offers lots of different dance classes.
I'm hoping that through something like the Interarts Ensemble Berklee might embrace more of an idea of synergetic creativity. It's a school of musicians, and half of them say, "I don't dance." How do you internalize music if you're not dancing? I think it's enriching to explore lots of different art forms, because the more you explore them, the more you realize that they're related.