President Brown Goes Bluegrass
October 3, 2008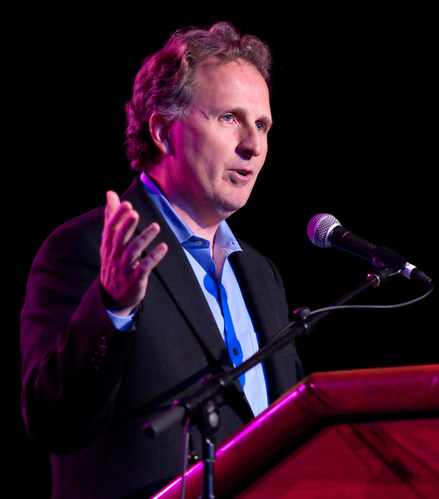 A ballroom's no sun-beaten field, but the determined members of the International Bluegrass Music Association can turn any hotel into a festival. From September 29 to October 5 bluegrass luminaries gathered in Nashville to pick, grin, and honor their standouts at the association's annual showcase.
Berklee president Roger H. Brown gave the event's keynote, emphasizing both the college's recent focus on bluegrass and the possibilities for music to flourish in hard times.
After he stepped off the stage, Berklee students stepped up to showcase their talents. Said guitarist Stash Wyslouch, "For me it was an amazing experience because I'm totally new to this bluegrass scene, and going to IBMA exposed me to the best players in the world in this particular style."
The Bluegrass Blog on Berklee at IBMA

---
President Roger H. Brown's Keynote Address
I am deeply honored to be here speaking to you. I am accustomed to being the person in the room who knows the most about bluegrass music. This is a disorienting experience—to be asked to be in a room in which almost everyone knows more about bluegrass than I do, and I am supposed to be the speaker.
I heard an anecdote that Garrison Keillor once referred to IBMA as the International Brotherhood of Methodist Actuaries. Given that many early bluegrass and old-time bands played to promote tonics, elixirs, and laxatives, I thought the acronym might be the Irritable Bowel Medical Alliance. But having heard the jam sessions in every nook and cranny of the hotel, I can say with confidence that IBMA must mean the Irrepressible Brigade of Monroe's Acolytes.
I also recognize that among the 2,700 members of IBMA, there are probably at least 2,800 opinions about bluegrass—what is true bluegrass, what is its history, its future, et cetera. I intend to attempt to add almost nothing to those friendly disputes. You will have to work those out among yourselves.
Born into Bluegrass
I do have deep connections to the music and the people who created it. My great-grandfather—Papa Dobbin we called him—was a fiddler and a preacher who also was headmaster of a school for orphan boys in the North Carolina mountains. My mother remembers him playing his favorite song, called "Shoot That Turkey Buzzard" (note: thanks to the many bluegrass historians at the IBMA conference for help with this reference). I keep his fiddle on the table in my office.
As a teenager growing up in the Georgia mountains, we would drive up to Suches to hear the Georgia Mountain Boys play "Boil Them Cabbage Down" and other standards, and try to catch the eye of country girls from little mountain towns or the daughters of tourists from South Florida escaping the hot summers and impress them with our "buck" dancing.
As a drummer, my musical interests moved towards Sly and the Family Stone, the Allman Brothers, Steely Dan, Weather Report, and Chick Corea and I became an unheralded jazz fusion drummer and played on a number of studio sessions in New York City. After living in Kenya, Cambodia, Thailand, and Sudan for much my 20s teaching school and doing work with refugee populations, I was exposed to music from all over the world.
It was Bela Fleck, Victor Wooten, and Mark O'Connor who led me back to my roots. I must have listened to that New Nashville Cats record about a million times, and studied all the musicians on all the tracks, including pianist and Berklee alumnus Matt Rollings. I remember being surprised that much of what I had come to love about jazz I rediscovered in the Flecktones. And then came Alison Krauss, Jerry Douglas, Ricky Skaggs, and Edgar Meyer. What a revelation this was, and a sense of coming home. I had the feeling that if you took a great funk drummer like Dennis Chambers and had him play the mandolin, it would sound like Chris Thile.
And now I'm into the whole deal including music that you may or may not consider within the boundaries of bluegrass but clearly draws inspiration from it: the Infamous Stringdusters, the Duhks, Old Crow Medicine Show, Mindy Smith, Yonder Mountain String Band, Kathy Mattea, and Crooked Still. I took my teenage daughter out to Telluride a few years ago where we heard Alison Krauss and Bobby McFerrin as the moon rose over the Rockies just to the left of the stage. And I have been listening nonstop to Bill Monroe, Flatt and Scruggs, and the Stanley Brothers since you asked me to give this talk.
Bluegrass at Berklee
I was privileged to be asked to serve as the president of Berklee College of Music in 2004. Berklee, as you may know, has educated musicians like Quincy Jones, Branford Marsalis, Diana Krall, Melissa Etheridge, Gary Burton, John Mayer, and Howard Shore (composer of the Lord of the Rings scores, The Departed, The Silence of the Lambs, and many other famous films).
At my inauguration, the college prepared a Georgia medley in my honor: "Georgia on my Mind," "Midnight Train to Georgia," "Rainy Night in Georgia," climaxing with a bluegrass treatment of "The Devil Went Down to Georgia." I remember feeling anxious because I had no idea how the students and faculty of Berklee, this cutting-edge school famous for jazz, with students from 78 countries, would respond to banjos and mandolins and fiddles. The place went wild—like a Pentecostal tent revival.
We have had many visiting artists from the bluegrass/newgrass world: David Grisman, Alison Krauss, Chris Thile, Tony Trischka, Bela Fleck, Joan and Pete Wernick, and Del McCoury. Del's clinic was fascinating. The hardcore bluegrass fans of course were there, but dozens of students just walking down the hall heard the music and were moths to the flame. We have a very cohesive group of faculty who love bluegrass, like musical savant and architect of much of Berklee's foundation in bluegrass and acoustic music Matt Glaser; writer and fiddler Mark Simos; flatpicking champion John McGann; Dave Hollender, who leads our bluegrass ensemble, which has every year grown in skill and prestige; and many others.
We have made banjo and mandolin principal instruments. We presented honorary doctorates to Earl Scruggs and Ricky Skaggs. Our alumni are making their mark in bluegrass and related musics: Casey Driessen, Rushad Eggleston, Natalie Maines, Gillian Welch and Dave Rawlings, Andy Hall, Chris Pandolfi, Bryn Davies, Japanese banjo player Hiro Arita, and some newly minted alumni like Nate Leath, Ashleigh Caudill, Joe Walsh, and Charlie Worsham.
And as a result, we are getting some very serious players at the college—one group from Berklee (Eric Roberston, Nate Leath, Sam Grisman, Nick Falk, and Stash Wyslouch) is doing a showcase here later this week and I'm told they can tear it up. Mando champion Dominick Leslie, a freshman at the college, plays a showcase later tonight.
Bluegrass, Bebop, and the 1940s
This evening, I'd like to reflect on the era that gave birth to bluegrass. The World War II years were bleak for music. Shellac, a key ingredient in record production, was in short supply due to the war, so very few records were pressed. The few that were pressed were primarily military music.
An ASCAP strike in 1941 meant that radio and TV were prohibited from using most compositions and the composers were not being paid royalties. An AFM strike in 1942–3 meant that instrumental musicians were largely out of work. The jukebox was seen as a disruptive technology that might well destroy the market for live performance. Some estimates are that as many as half the working musicians quit. Big bands, which had been ascendant, took a body blow and never fully recovered.
Out of the rubble of this period the vocalists (who were not covered by the AFM strike by the way) got the upper hand on the bandleaders and have ruled popular music ever since. Bing Crosby, Frank Sinatra, Peggy Lee, Nat King Cole sold an unprecedented number of records in the immediate postwar period.
Bebop, with its radical harmonic and rhythmic complexity, emerged from the work of Dizzy Gillespie, Charlie Parker, Thelonious Monk, and others who had been creating this innovative new sound in New York City under the cloud cover of the recording ban.
At almost the same moment, Bill Monroe added Earl Scruggs and Lester Flatt to his Bluegrass Boys, juiced up the tempos, tightened up the strings, and let fly. And a new genre in American music was born.
Coincidentally, Berklee College of Music was created in 1945 as well.
The parallels between bebop and bluegrass are many. Aside from sharing virtually the same birthday, each was created by a small, readily identifiable group of founders—unlike, say the blues, whose origins are more murky. And interestingly, several of those men were born within a 60-mile radius: Earl Scruggs, born in Shelby, North Carolina; Doc Watson in Deep Gap, North Carolina; Thelonious Monk in Rocky Mount, North Carolina; John Coltrane from Hamlet, North Carolina; and Dizzy Gillespie from Cheraw, South Carolina.
These creators all experienced a rapid shift from a rural, agrarian life to big towns and cities and a commercial economy that challenged many of the values and mores of their communities.
Bebop and bluegrass were each rooted in a strong musical tradition, but broke with those traditions. Each was characterized by blazing tempos, virtuosic soloing, and a song structure that used standards known to all, which promoted jamming and the easy mixing of band members with its resulting cross-pollination.
Each tradition had an intriguing balance of collaboration and competition. Soloists pushed each other to unprecedented heights but shared ideas and a common love of the music.
The musicians in each genre sustained enough success over their careers to remain active and engaged, but not so much commercial success that they were overwhelmed by it as has happened so often in rock music.
I have found no parallel to the practice of Bill Monroe and the Blue Grass Boys challenging professional baseball players to games before their gigs in the various towns they visited. Though I do know that Charlie Parker loved country songs for the stories they told, and that Dizzy Gillespie told a young Jean-Luc Ponty that if he wanted to learn jazz on the violin, he should first study bluegrass, because bluegrass fiddlers had developed some serious technique that could be applied to jazz.
And both bluegrass and bebop led to the creation of new technical standards on key instruments. In bebop, the saxophone emerged as the transcendent tool of improvisation. In bluegrass, the banjo was redefined and elevated. Ironically, bebop, a form dominated by African-American musicians, put an obscure and little-used Belgian instrument, the saxophone, at its core, while bluegrass, dominated by European-American musicians, did so with the banjo, originally an African instrument.
Each music has a strong spiritual element. Neil Rosenberg, in his seminal history of bluegrass (which my Berklee faculty assigned me as required reading), asserts that just about one-third of the bluegrass traditional repertory consists of spirituals. Maybe less well known to this group is that bebop, particularly the music of John Coltrane, was explicitly spiritual as well. One of Coltrane's preeminent recordings, "A Love Supreme," was a meditation on these words, "Elation, elegance, exaltation, all from God, thank you God, Amen."
And perhaps most importantly, bebop and bluegrass music, in my opinion, transcended mere popular music and created artistry of lasting value and importance.
If the blues is the music of the earth—of the soul, of heartbreak, loneliness, disappointment, booze, murder, infidelity, sin, and transgression—and if gospel music is the music of heaven—of the spirit, of aspiration to goodness, of selflessness and forgiveness, hope and joy—it seems to me that the beauty of both bebop and bluegrass is the fusion of these two opposites: heaven and earth, spirit and soul, of our best selves and our broken selves. Music that is spiritual without forgetting the human struggle, and soulful without losing hope for something better.
Going Forward...
Today, get a group of musicians together and they will describe plagues, poxes, and pestilence like those of the World War II era. Illegal downloading of copyrighted music; the collapse of major record labels; a malaise in popular music with no big ideas, only recycled hooks; slick production trumping authenticity; rampant use of autotune and overuse of Pro Tools.
But I would simply remind you that out of the bleakness of the World War II era emerged the most fertile period of American music to date. The very forces causing the current malaise may be its cure: the ubiquity of access to tools of making music, the ability to share it with audiences around the world instantly, and the exposure of musicians to new indigenous musical ideas from other cultures.
What might be the future of bluegrass? We can't even predict the weather three days from now, let alone prognosticate on the future of culture and art. But I believe the story of bluegrass is unfinished. Think of the progression of jazz from ragtime, to Dixieland, to swing, to bebop, to fusion and free jazz, to the current global innovators incorporating new ideas and sounds into the form.
I would urge you as artists and fans to be open to new influences. I read with interest the role that Byron Berline, a Western-style fiddler from Oklahoma, played bringing new stylistic ideas to what had been more of a Southeastern style of fiddling. Or Bill Keith on banjo—who said nothing good ever came out of Boston?
A famous faculty member at Berklee, Herb Pomeroy, was a jazz trumpet player who had worked with all the greats of his era. The story goes that Herb had to buy two airline seats when he traveled, one for himself and one for his ears—because they were so big. I would encourage you develop those big ears that welcomed innovators like Berline and Keith.
Keep exposing young people to the music. One thing bluegrass is exceptionally good at is the education that accompanies the many fine festivals. Young people play together and inspire one another, and by the time they grow up they are both steeped in tradition, connected with other fine players, and able to develop their own distinctive sounds—much like Monroe, Scruggs, and the other pioneers of bluegrass did.
The model of jazz is worth studying. Back in 1945, no one could have predicted that a significant number of high schools would have standing jazz ensembles. Why couldn't there be bluegrass ensembles in schools? So many students play guitar and string instruments, yet our school bands are designed largely for wind and brass instruments.
I also urge you to cherish and nurture the IBMA. You are lucky to have such a strong and vibrant association. Don't take it for granted. This is a powerful tool in advancing the music you love.
I asked songwriter and Berklee faculty member Mark Simos to help me find a lyric that might sum up my talk and he recommended "Walls of Time" by Peter Rowan and Bill Monroe.
I hear a voice out in the darkness
It moans and whispers through the pines
I know it's my sweetheart a-calling
I hear her through the walls of time
Your dedication, commitment, and artistry will ensure that our children and their children will continue to hear the high lonesome whispers and moans of bluegrass through the walls of time.