Doc Watson Receives Honorary Doctorate
May 3, 2010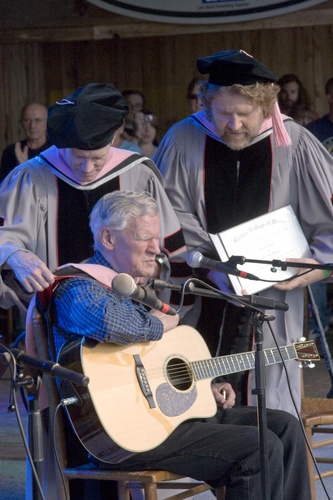 Legendary American music icon and guitar master Doc Watson was presented with an honorary doctor of music degree from Berklee on Saturday, May 1, at MerleFest, in Wilkesboro, North Carolina.
Presenting the honor were Matt Glaser, artistic director of Berklee's American Roots Music Program, Berklee trustee Rusty Williams, and professor Stephen Webber. Partway through the brief ceremony, Glaser and Webber broke into "When the Roses Bloom in Dixieland," the first tune Watson ever learned, and Watson joined in on guitar, singing several verses. Watson also good-naturedly corrected Glaser on the origin of his nickname "Doc," and shared his thoughts on the occasion. As the presentation was made, the Watson Stage crowd of approximately 20,000 gave the flat-picking pioneer a heartfelt standing ovation.
Berklee presented its first honorary doctoral degree in 1971, to Duke Ellington. Since that time, many of the towering figures in contemporary music have become Berklee honorary doctors, including Earl Scruggs, Quincy Jones, Sonny Rollins, Loretta Lynn, Tito Puente, Sting, Andraé Crouch, Aretha Franklin, and Emmylou Harris, to name a few.
MerleFest was founded in 1988 in memory of Eddy Merle Watson as a fundraiser for Wilkes Community College and to celebrate "traditional-plus" music. The music of MerleFest is the music of legendary North Carolina musicians Doc and Merle Watson. Merle, the son of Deep Gap native and master flat picker Doc Watson, was killed in a tragic accident a couple of years earlier, and the festival provides friends and fans of Doc and Merle a time to remember Merle and celebrate the music to which the Watson family is devoted.