International Study Abroad: Finding Yourself in Freiburg
March 2, 2010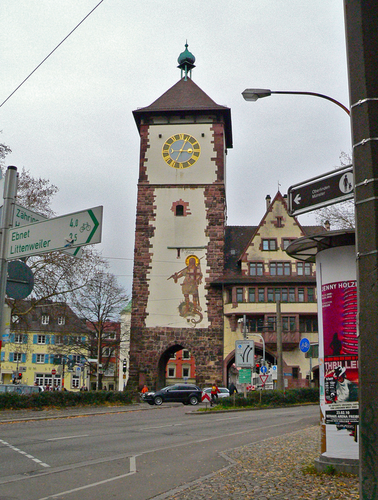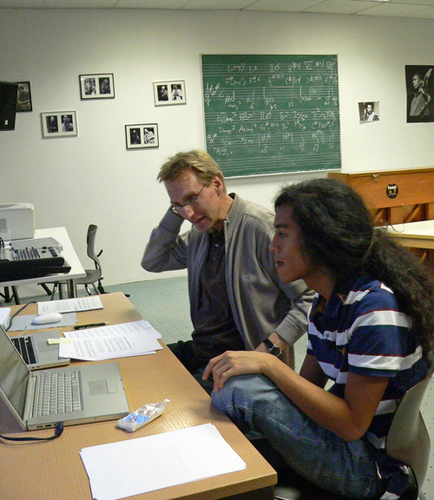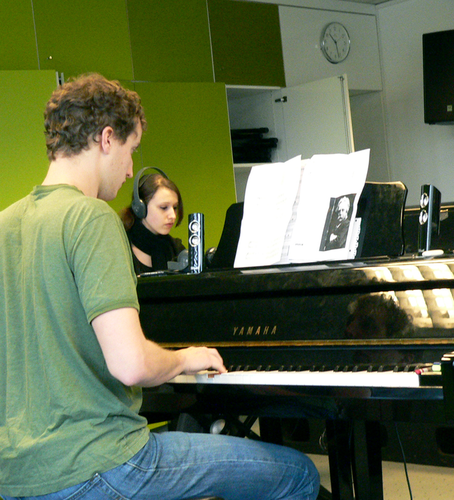 Starting college at a place as unique and complex as Berklee is a challenge for anyone. But after they've learned the lay of the land, students may be ready to take on another new environment. Ten Berklee students spent the fall 2009 semester at the Jazz & Rock Schulen in Freiburg, a small city with a historic university and a focus on the arts and environmentalism. Some jammed at the local jazz hang or played with a symphony orchestra. Some bought bikes like the natives, crisscrossing the flat roads. All found broader horizons—and echoes of home—in an unfamiliar landscape.
Berklee Study Abroad (BSA) is relatively young, and thus still flies somewhat under the radar, despite sending more than 100 students abroad in its first three years. Fall marked the fourth semester of the program in Freiburg, and the eighth semester of the other BSA site, the Philippos Nakas Conservatory in Athens.
Making the decision to study abroad
The students' motivations were straightforward and strong. "I wanted to study abroad before I graduated, and I wanted to travel around Europe," said John Holback, a sixth-semester professional music major. "I had never left the country before. Ever." In fact, he delayed graduation half a semester in order to participate. Trumpeter Tom Brennan was in his fifth semester but had wanted to study abroad for a long time; he'd thought about it since he first got to Berklee.
Though simple, that drive made good career sense. Jason Camelio, Berklee's director of international programs, said the music industry's growing internationalism made study-abroad an important option to offer Berklee students. They "have to get themselves prepared. The music market can be more than Nashville/Los Angeles/New York City," he said.
Along with offering English-language classes, it was essential that a BSA site be "capable of offering a pretty fair amount of the core curriculum that the early-semester students at Berklee would be able to take to progress. . . in their classes," Camelio said. Because Berklee majors are so specialized, BSA targets earlier-semester students than your average school study-abroad program. Camelio said the college would start offering BSA with major-specific coursework when Berklee Valencia opens.
Home in Freiburg: The Jazz & Rock Schulen
The Jazz & Rock Schulen was ready for the challenge. The school has been an official Berklee International Network partner since the mid-'90s, and has had a spiritual kinship with Berklee from its earliest days in 1984. Along with a college-level program, it offers classes for youth and training for mid-career music teachers.
Camelio also credited the school's "very strong faculty," connections, and central location in Europe. "It's perfect for the sort of European immersion you want with study abroad."
For J&RS, it truly was a win-win situation. "It met our interests as well because we were thinking it would be good for our school if we could attract [more] international musicians," said cofounder Reinhard Stephan, a goal reflected in the school's decision to rename its college-level program International Music College Freiburg. That meant offering classes in English. The BSA opportunity offered the impetus. Also, artistic director Bernhard Hofmann said, "We felt that it would be good for our students to interact with American students."
In fact, the fall's Berklee pack took J&RS by storm. J&RS is several orders of magnitude smaller than Berklee; the 10 visitors comprised a full 10 percent of the enrollees. (Five students are there this spring.) Said Hofmann, "Berklee students seem to play a big role in our day-to-day student life."
Though the scale differed, the atmosphere was the same, with show flyers taped on glass and music coming from every room: Joni Mitchell, jazz standards, someone pounding the daylights out of a drum set.
Creating a new routine
The Berklee students settled in fast. "From the first day," Brennan said, "everyone's been really friendly here. If you have problems it's very easy to get someone to help you." Berklee students had not one but two J&RS "den mothers": coordinator Isabel Schmidt and young American expat/jazz guitarist Edward Fernbach, the latter brought on as the study-abroad program expanded. Fernbach happily accompanied students to the post office to see about shipping packages home, set up a weekly school-wide social night, explained German social protocol, suggested good restaurants, and generally served as an expert cross-culture liaison.
This eagerness to help held true for the school's extended family: Not only did a J&RS student take Holback, who has celiac disease, to the health food store to buy gluten-free products—her mom baked him gluten-free bread.
Personal issues that might have made some students hesitate to go abroad, like celiac disease, turned out to be no problem in the end. Despite Germany's reputation for meat-heavy cuisine, Wendt, a vegetarian, found great vegetarian fixings. Daniela Coffey, a third-semester vocalist who is blind, got her standard Berklee accommodations and found that Germans treated her the same as anyone else.
The level of personal attention continued on to the classes. The Berklee students took German art history, music history, and language in a group, but the rest of their classes maxed out at three. They also had ensembles, some of which included German students.
Guitarist Michael Lostica's Tonal Harmony class "only existed because I'm here," he said. "It's pretty much a private lesson." A one-on-one with Hofmann—a composer and arranger in his own right? Not shabby. Brennan also had a private arranging class with Hofmann. "He actually brews coffee for me," he said. "Last week we spent two hours just working on a composition I wrote. . . . We spent an hour and a half picking out two chords." (Rest assured that they were, he said, really amazing chords.)
Freiburg beyond the classroom
Said Schmidt, "I think it's a good and important experience to be somewhere else, to learn how to live there." She added, "I'm always a fighter for making international friends, because I'm quite convinced that the way for making the world better is to make friends. . . you don't make war with friends."
The Berklee students made additional international friendships through their living situation. Although J&RS doesn't provide dorms, fortuitously, the Goethe Institute language school had international student housing down the street. It's "like living in a hostel, but a lot better," said Drew Wendt, a fourth-semester vocal performance major.
The second-floor lounge became a regular hangout for Berklee and Goethe students from all around the world—a place to Skype with family, organize a pickup darts game, or throw some pasta into a pot. (The cleaning service didn't hurt students' satisfaction, either.) Wendt spent a night dancing in Hamburg with his Goethe friends. "I feel like they should record us and have The Real World: Freiburg," tuba player Josh Story joked.
The Berklee crew also made new connections among themselves. Only a few had been at all acquainted before leaving for Freiburg. Once they arrived, they bonded like superglue. "I actually hang out with them way too much," Wendt said. "We're really like a family."
And alongside the cultural immersion, the education, and the friendships, students satisfied their travel itch. With a Eurail pass, Holback said, "You leave Thursday, take the night train, wake up in Vienna." He visited the city of Freud and coffeehouses himself, as well as Rome, Florence, Venice, Amsterdam, and Berlin. The art history professor took them on trips to Basel, Switzerland; Strasbourg, France; and Karlsruhe, Germany. Lostica took a quick trip to Cologne to see the band Muse. Story and Brennan spent fall break traveling with two other members of the Berklee group, taking "tons and tons of photos," Story said.
Perhaps December won't be the end of the Eurail for some. Schmidt hoped they would "make connections for their professional lives later on" and return to Germany. There's precedent: Berklee alumna Lindsey Blount '09 spent the fall gigging in Europe with friends she'd met during her semester at Freiburg.
No matter what tangible benefits may come from the trip, one thing's set. When BSA students return to Boston, Camelio said, "They carry themselves differently." They're more confident, and more focused—intrepid travelers ready to tackle music and life on their native turf. . . or anywhere else.